Digital Picture Frames
Are Black Friday and Cyber Monday the best times to buy digital photo frames?
by Cozyla Team on Oct 26, 2023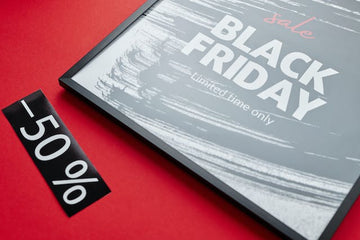 Are you considering purchasing a digital photo frame this holiday season? With Black Friday and Cyber Monday just on the horizon, these two major shopping events might be the perfect opportunity to buy one. We will explore why Black Friday and Cyber Monday are ideal for shopping for digital photo frames and why they make fantastic gifts.
Why are Black Friday and Cyber Monday a shopper's paradise?
One of the most compelling reasons to consider buying a digital photo frame during Black Friday and Cyber Monday is the significant discounts offered by retailers during these shopping extravaganzas. These two days have become synonymous with incredible deals, making them the perfect time to snag a digital photo frame at a much lower price. Whether you're upgrading your own frame or planning to gift one to a loved one, the cost savings can be substantial.
Beyond the discounts, many retailers also offer exclusive promotions, bundle deals, and freebies during Black Friday and Cyber Monday. These add-ons can enhance your shopping experience and provide even more value for your money. Therefore, if you've had your eye on a particular digital photo frame, this is the time to strike while the iron is hot.
Is a digital photo frame a good gift for the holidays?
Digital photo frames have emerged as one of the most thoughtful and versatile gifts for family and friends. Unlike traditional photo frames that display a single static picture, digital frames allow you to showcase an entire album of cherished memories. Whether it's family vacations, special occasions, or everyday moments, you can curate a rotating display of photos that bring joy and nostalgia to your loved ones' lives.
With digital frames like the
Cozyla,
you can remotely control connected frames , change their settings, and Send pictures via email, Google Photos, Instagram, and Cozyla app. Sync your 10000+ Google Photos to the frame with a few clicks.
Digital photo frames such as the Cozyla are particularly ideal for families and elderly users. They are user-friendly, offer versatile slideshows, and make photo-sharing, as inclusive and efficient as can be.
How to set up a digital photo frame as a gift for holidays?
The most delightful way to prepare a digital photo frame as a gift is by filling it with cherished photos, videos, and heartfelt messages. With the Cozyla digital frames are particularly great , you can set up unique "gift mode" . What makes it special is that you can send the frame directly to the recipient and, using the app, upload photos, videos, and warm greetings without unboxing. Many frames on the market do not have this feature.
But that's not all, with
Cozyla digital frames
there is no limit to the number of frames you can manage from a single account. You can also link the same albums to different frames. Any changes you make to the albums will automatically update on all the linked frames. No more repetitive tasks – it's seamless and efficient. Let your loved ones won't miss any unforgettable moments!
Upload photos to your digital photo frame for the holidays. Image the joy on your loved ones' faces as they relive their favorite memories! Plus, it's a easy, quick, and budget-friendly way to share happiness!
Black Friday and Cyber Monday are indeed the best times to buy digital photo frames. With a wealth of discounts, access to top-of-the-line models, and the opportunity to secure meaningful gifts, these shopping holidays present an excellent opportunity for both bargain hunters and thoughtful gift-givers. So, if you've been eyeing that perfect digital photo frame, mark your calendar and be prepared to seize the moment when the sales roll around. Your cherished memories deserve to be showcased beautifully, and these shopping holidays can help you achieve just that without breaking the bank.